Decode your VIN and Door Tag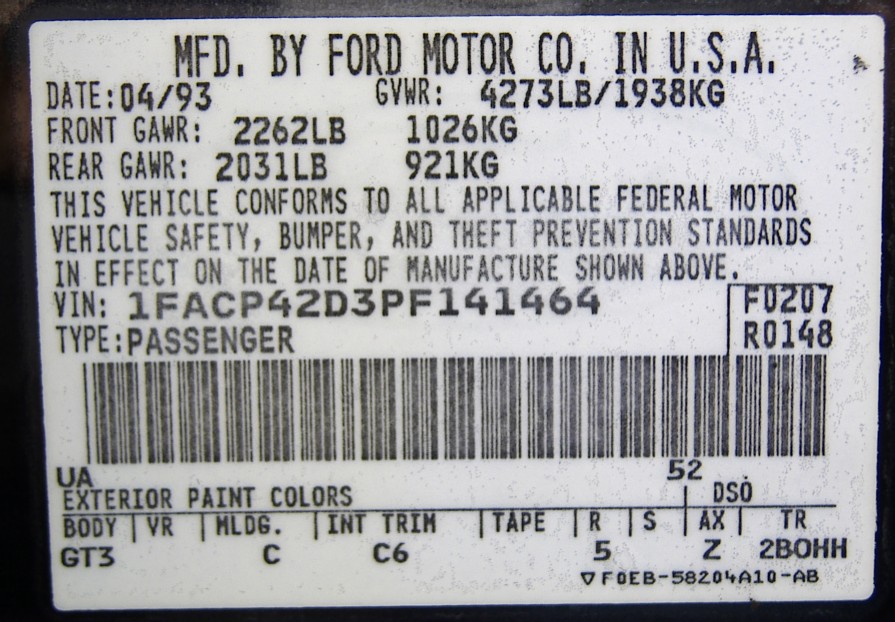 What you are looking at is a door tag off my 1993 Mustang Cobra #1970. If we go from left to right starting on the top of the tag, we can see:
Date: This is the month and year the vehicle was made. Exact date is available through SVT (800) FORD-SVT or is located on your certificate with your build number.
GVWR, Front GAWR and Rear GAWR are yet to be confirmed as to the actual meaning. It is not the actual weight of the vehicle but I believe it is the maximum amount the vehicle can carry. When I find out, I will update it here.
VIN: This is the same number located on your dash tag viewed through the windshield. Here is a breakdown of the VIN:
1-Identifies the country manufactured (United States). If you have ever seen a Lightning VIN it will begin with a 2 for Canada.
F- Manufacturer which is Ford
A- Vehicle make and type Ford passenger vehicle
C- simply to show the vehicle has active seat belts and an airbag. If this car were not to have an airbag and only active belts (no 93 Cobra exists) it would be the letter "B" just to give an example.
P- Again identifies a Ford passenger vehicle
42- Tells us it is a 3 door hatchback GT series. An LX notchback would be 40 and an LX hatchback would be 41 just to give some examples.
D- This is the single biggest identifier of an authentic 93 Mustang Cobra. This tells us it has the 5.0L Cobra engine. The only other year fox body Mustang to use this letter to identify the engine is back in 81-83. No other fox body Mustang will carry this letter in the VIN.
Just a note, all 1993 Mustang Cobra's will begin with this sequence shown above in the VIN (1FACP42D)
3- This is a check digit used by Ford to verify the VIN has been recorded correctly. This digit will vary between most 93 Cobra's
P- Tells us this is a 1993 Model. 1992 would show the letter "N" to give an example.
F- Tells us which plant assembled the car in this case it is Dearborn.
141464- These numbers tell us the production number throughout the entire Mustang line. Looking at the registry, you will notice there are some sequences that do not match the build numbers especially with the Cobra R versions.
Exterior Paint Colors: There are technically 4 different color codes that can be here for the 1993 Mustang Cobra. Most common codes will be:
RD- Teal Metallic Clearcoat
UA- Black Clearcoat
ES- Vibrant Red Clearcoat
EY- Vibrant Red non clearcoat sometimes referred to as Performance Red. Only 9 show to have ever been painted this color. It is certain that these 9 vehicles were not made available to the public when the car first sold but many non-public cars have been sold to private individuals.
DSO: Stands for District Sales Office which is responsible for ordering the vehicle. Many dealerships made their order to their DSO in another city. The vehicle above was ordered by Shamaley Ford in El Paso, Texas to the DSO in Dallas, TX. Here is a breakdown of DSO codes. If yours is not listed, please e-mail me and I will try and track down the DSO:
11-Boston, Massachusetts
13-New York, New York
16-Philadelphia, Pennsylvania
19-North Marketing Area
21-Atlanta, Georgia
23 Memphis, Tennessee
24-Orlando, Florida
27-Washinton
29-South Marketing Area
41-Chicago, Illinois
44-Pittsburg, Pennsylvania
47-Cincinati, Ohio
48-Detroit, Michigan
49-Great Lakes Marketing Area
52-Dallas, Texas
53-Kansas City, Missouri
56-Denver, Colorado
58-Twin Cities
59-Central Marketing Area
71-Los Angeles, California
72-San Francisco, California
74-Seattle Washington
79-West Marketing Area
81-Ford Home Office
84- Ford Home Office
Body: All 93 Cobra's are marked GT3 This simply states that it is a 3 door hatchback GT even if it is a Cobra.
VR: All 93 Cobra's will have this blank. This is where the color of the convertible top would be and there were no convertible Mustang Cobra's produced until 1994.
MLDG: This is the color of the door side moldings.
C-black
D-Red
L-Teal
INT TRIM: This shows the interior seat color, material type and seat style or type. All 93 Cobra's got the articulated sport seats except for the Cobra R versions. 93 Cobra R is a G6 for lowback seat with gray cloth which all Cobra R versions got. Here is the breakdown for regular production Cobra's:
C6- Articulated sport leather seats in opal gray. BTW, this is the only color leather available in the 93 Cobra from Ford.
D6- Articulated sport cloth seats in opal gray.
DJ- Articulated sport cloth seats in black
Tape: This identifies the color of the paint stripe. Since no 93 Cobra's got the tape stripe, this should be blank.
R: This is the code for the radio installed in the vehicle. 93 Cobra R versions got no radio and should be a Y for radio delete. Other production Cobra's should be as follows:
5- Premium AM/FM Stereo CD player
7- AM/FM Multiplex Cassette.
8- Premium AM/FM Stereo Cassette
Y- Radio Delete 93 Cobra R
S: If there was a letter C here, your car had a sunroof. Non sunroof cars were left blank.
AX: This is the axle code. All 93 Cobra's got 3.08 with traction lock. Code is Z.
TR: First number tells us the transmission type. In this case all 93 Cobra's got the 5 speed manual which is number 2. The other 2 pairs of letters tell us what springs were installed in the vehicle. For all regular production 93 Cobras the front spring code is BO and the rear spring code is HH. 93 Cobra R's have a different pair of spring codes since they had way stiffer front and rear springs.
If any info here differs from what you have on the door tag of your 93 Cobra, please e-mail me a picture and I will try to identify the information for you. E-mail is: cobr96@cs.com